Fay & Spooky 22.09.2001
Click on their names below to see more of them or the photos of the parents if you want to see them:
September 22, 2001
Fay had her second litter of 8 beautiful babies.
November 8, 2001 the hole litter were tested clear of CEA.
The boys and the girls 6 hours old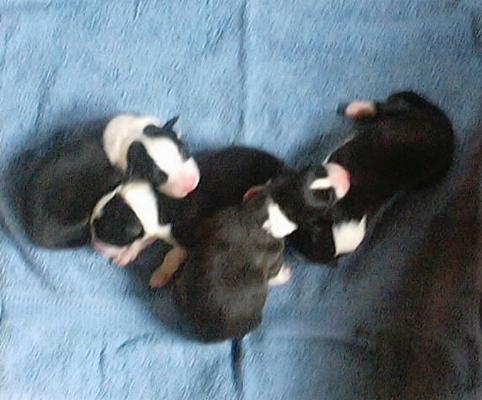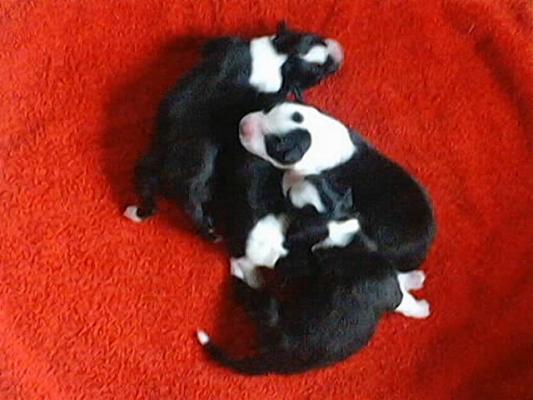 5 weeks old and outside for the first time.
They really needed a drink after that experience !
(Though they were quite unimpressed).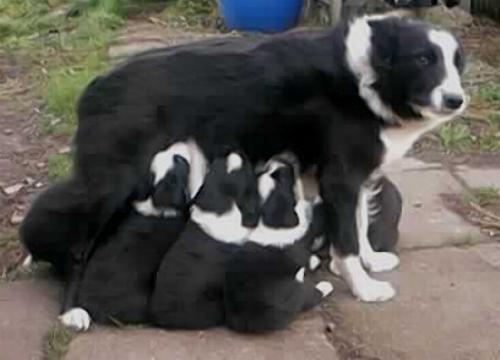 Pedigree of the litter:
Bytom Jgd.Sieger
Auldbrig Tocatch Aghost
Black/White
Hips A2-A2, Eyes clear

AUSCH
Maghera Ghostinthmachine
Black/White

Hips AVA 4:2

AUSCH & NZCH GRANDCH
Clan Abby Phantom of Love
Black/White

Hips AVA 2:1

AUSCH
Maghera Crystal Clear
Black/White
AUSCH
Auldbrig Blue Mystique
Blue/White
AUSCH
Maghera Pretender
Black/White

AUSCH
Auldbrig Loch Katrine
Black/White

Eyes clear

Dunja from goat valley
Black/White
Hips B1-B1, Eyes clear


Impossible of four lime trees
Black/White
Hips A-A, Eyes clear

Nop aus dem Barock
Tricolour
Hips A - Eyes clear

Eye Shadow of four lime trees
Black/White
Hips A - Eyes clear

Fan of four lime trees
Black/White
Hips A-A, Eyes clear

Dt.ěstr. & Dt-Ch. (VDH) & Dt.Jgd.-Ch.
Hemp of Hallrule
Black/White
Hips A1-A1, Eyes clear

Indian Moon von der Neckarburg
Black/White
Hips A1-A1, Eyes clear
Last updated May 24, 2010